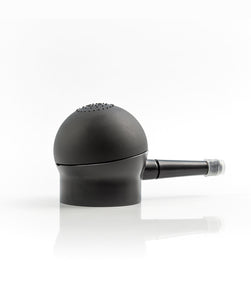 Hair Plus® Hair Fibre Applicator
It will dispense the hair fibres precisely into thinning areas on the scalp and thinning areas of a beard. Using our applicator makes it easier for you to apply the fibres for a natural and uniformed finish. The Hair Fibre Applicator will also make it easy and quick to touch up your roots. Helping you get the natural hair colouring between hair fibre and your head. It is the perfect accessory for every Hair Plus® hair building fibre users.  
Directions for Use
Step 1 : Unscrew the cap on the Hair Fibre bottle. Twist and remove the sifter on top of the bottle. 
Step 2 : Screw the Hair Fibre Applicator onto the bottle once the sifter is removed. Please continue to remove the travel plug from the tip of the applicator. 
Step 3: Press your forefinger onto the black rubber pump to dispense the Hair Plus® building fibres. To control the amount of hair fibres that are released simply us more or less finger pressure. 
For a perfect result, please use with Hair Plus Hairline Optimiser for £2.98 only!